If you're looking for a delicious meal out, look no further than the restaurants in downtown Grande Prairie! There are plenty of great places to choose from, and we've compiled a list of our favourites. Whether you're in the mood for Italian, Indian, or something else entirely, you'll be able to find a restaurant that suits your taste. Keep reading for our top picks!
What makes Downtown Grande Prairie a great place for food?
If you're in town visiting our Quick Lane location and have some time to kill, why not visit downtown Grande Prairie and stop for a bit to eat. The downtown area is the ideal location for a restaurant. The area is already home to a number of places to eat, and there is plenty of foot traffic from both residents and tourists.
In addition, Downtown Grande Prairie offers a variety of options that would be perfect for anyone waiting for their vehicle to be finished at our Quick Lane.
Our Favourite Places To Eat In Downtown Grande Prairie, AB
When it comes to food, Grande Prairie has something for everyone. Whether you're in the mood for a casual meal or a fine dining experience, you'll find plenty of great places to eat in downtown Grande Prairie. Here are just a few of our favourites.
Royal Curry is one of the most underrated restaurants in the downtown Grande Prairie area and with a recent change in ownership the food is a can't miss. There are many reasons to visit this location, but one of the most important is that it is simply delicious.
Indian food is often packed with flavor, thanks to the use of spices such as cumin, turmeric, and chili pepper. In addition, their dishes often incorporate a variety of different options, making them both interesting and satisfying to eat. This is particularly true of lunchtime dishes such as curry and rice.
As a result, it's a no-brainer not to miss out on visiting this location.
Earls is a Canadian-based international restaurant chain that was founded in 1982 in Edmonton, Alberta. The restaurant specializes in global cuisines, including American, Asian, Italian, and Middle Eastern dishes. A Canadian-based casual dining restaurant chain that serves items such as burgers, sandwiches, pastas, and salads. In addition to dine-in service, the restaurant also offers take-out options and is one of the more popular places in town for social gatherings.
As any foodie knows, there is nothing quite like a delicious lunch to help get through the afternoon slump. However, finding the perfect lunch can sometimes be a challenge. Fortunately, there is Fourteen Food company.
A boring sandwich or salad is not going to do the trick when you're waiting for your vehicle to finish at our Quick Lane, so why not take a quick trip downtown and visit this place. With a wide variety of sandwiches, soups, and sides you'll be hard-pressed to find something you won't want to try on their menu.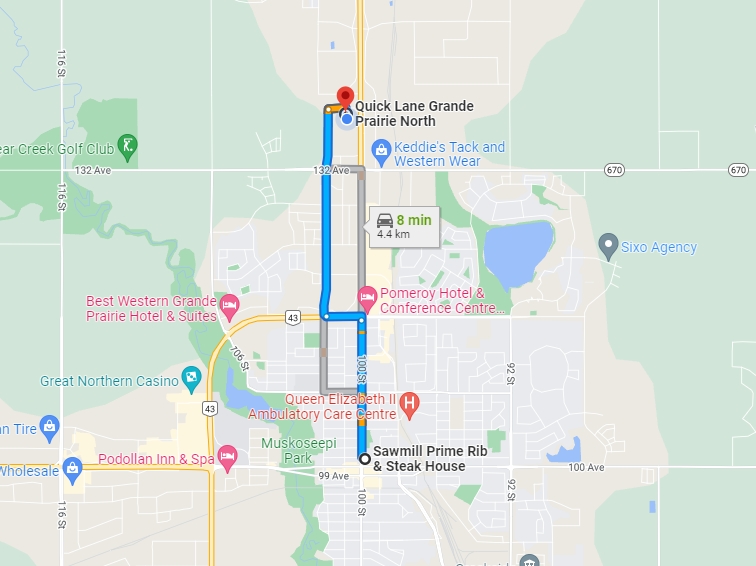 Have some more time to kill or searching for a great supper option in the downtown GP area? Look no further than the best steak house in the downtown core, the Sawmill.
If you're looking for a top-quality steakhouse experience in Grande Prairie, look no further than Sawmill Prime Rib & Steak House. From juicy ribeyes to succulent New York strips, their steaks are hand-cut and perfectly aged for maximum flavor. Whether you like your steak rare, medium, or well done, their expert chefs will cook it to perfection. And for those who like to share, they also offer a variety of mouth-watering appetizers and side dishes.
Add in their extensive wine list, and you're sure to have an unforgettable dining experience at Sawmill Prime Rib & Steak House.
Thank you for reading our guide to the best restaurants in Downtown Grande Prairie. We hope you'll be able to visit some of these great places during your next visit to our city. And don't forget, if you're looking for a quick and convenient automotive service, our Quick Lane has you covered.